As our name suggests, here at KLSC we are all about sailing. If you are too, enjoy unlimited use of your cottage's 22' sailboat, absolutely free of charge! Explore the warm tropical waters of the Florida Keys at your leisure.
.
Not yet a sailor? learn from the professionals at the American Sailing Academy, located conveniently on site.
If that isn't enough to keep you busy, included in your stay is complimentary use of our other water toys…
Kayaks

However adventurous you're feeling, there's a place for you to paddle. A nearby sunken boat, a deserted island, or head to the mangroves and explore cool canals with iguanas hanging in the trees above you. Or just float over to our local watering hole & restaurant!
.
Stand-up paddle boards
Test your balance and try out this fun way to travel. You might even spot wild manatees and 120-pound tarpon fish!
.
Fishing equipment
For the ultimate in relaxation, fish right off our docks with the gear we provide. After a good catch, you can barbecue up the night's dinner at our waterside tiki hut, while admiring a stunning sunset.
.
Snorkeling gear

The water around our docks is clear and safe for the whole family to explore. It is abundant with fish, beautiful shells, starfish, and some corals. You can also take our gear with you out kayaking and snorkel around the nearby sunken boat or coral reefs.
If you want to go on an Oceanside sail and snorkel trip, you can book this amazing experience at Morning Star Sailing Charters. Morning Star is an off-site snorkel charter service which is also part of KLSC.
.
Bicycles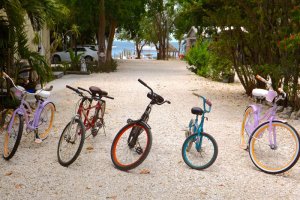 And for when you need to dry out, bicycle use is also free. Key Largo is bike-friendly with cycling trails and parks nearby.
.
Speaking of venturing off-site, other outstanding local activities include:
Other Activities on and Around Key Lime Sailing Club and Cottages
Scuba Diving

There are dozens of dive centers within easy reach of Key Lime Sailing Club. Home to the world's largest artificial reef and the USA's largest living reef, there's a reason Key Largo is billed as the "Diving Capital of the World"! Check out Silent World Dive Center for your Diving needs tell them Key Lime sailing club sent you.
Everglades Tours
Experience eco-guided tours in the Everglades National Park.
Everglades Alligator Farm
Visit the oldest alligator farm in the state.
Dolphins Plus Bayside (formerly Dolphin Cove)
Choose from a variety of ways to get up close & personal with these beautiful creatures.
Theater of the Sea
Offers entertaining and educational experiences with marine mammals and other animals. Family owned and operated since 1946, this is one of the oldest such facilities in the world.
Schnebly Redland's Winery
Taste some of Florida's best tropical fruit wines
John Pennekamp Coral Reef State Park
Encompassing approximately 70 nautical miles, the first undersea park in the U.S. offers a variety of activities both above and below the surface.
Florida Keys National Marine Sanctuary
Administered by NOAA, and jointly managed with the State of Florida, the sanctuary protects 2,900 square nautical miles of waters surrounding the Florida Keys.
Biscayne National Park
Protecting 173,000 acres, Biscayne comprises a rare combination of aquamarine waters, emerald islands, and fish-bejeweled coral reefs.
We commit ourselves to making sure you have a fun vacation, full of great memories to last you a lifetime. Just get in touch and we will help you start planning your stay. Come and enjoy a slice of paradise here at Key Lime Sailing Club and Cottages! Easy to reach, hard to forget…
Looking for sailing songs and pirate songs from around the world? Check out www.sailinglyrics.com.