Get Married in Paradise!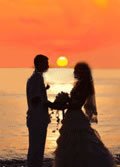 Your wedding day is a special occasion that deserves to be unique and unforgettable, and Key Lime Sailing Club is here to make that happen. Imagine saying your vows surrounded by the beauty of the Florida Keys, with the setting sun painting the sky with stunning hues of orange and pink. We offer three distinct locations for your sunset wedding: on the beach, on the dock, or on a sailboat – all guaranteed to create a breathtaking backdrop for your special day.
But we don't just stop at the ceremony – Key Lime Sailing Club can also host your wedding reception and party. You can choose from a range of themes, including formal, casual, or the unique "Conchy Key-zee" style that captures the laid-back spirit of the Keys. Whatever your vision, we will do our best to make it a reality.
Our cozy cottages can accommodate up to 40 guests, ensuring that your loved ones can share in this special moment with you. And to make your stay even more enjoyable, we offer access to all the KLSC goodies, including sailboats, kayaks, water toys, bicycles, snorkel gear, and fishing gear.
What's more, our owner Paul is an Ordained Minister and can perform your wedding ceremony, adding a personal touch to your special day.
So why not make your dream wedding a reality with Key Lime Sailing Club? Let us be a part of your new beginning together, and create memories that will last a lifetime.