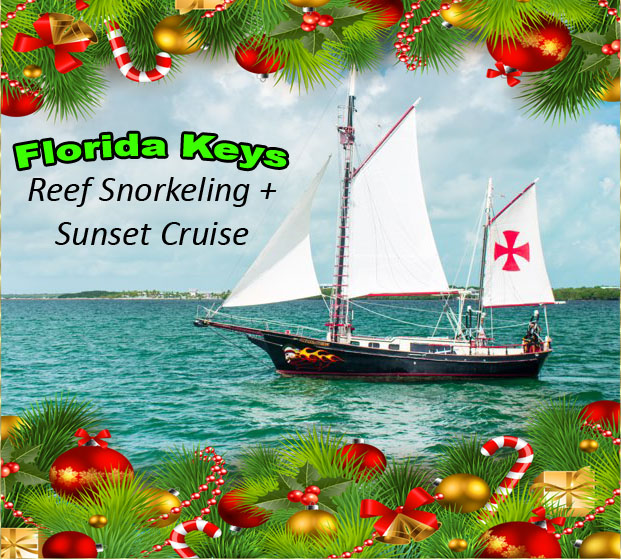 Happy Holidays to you all!
Do you want a Christmas gift idea to surprise your loved ones? We are happy to offer gift cards that you can purchase in advance to help make gift shopping quick and easy.
These gift cards are for our ocean side reef snorkel and sunset cruise trips aboard our Pirate's Choice Charters, the only pirate ship in Key Largo! Purchase a snorkel trip, sunset sail, or a combination package
We will take you on a beautiful, uncrowded sail to one of the Florida Keys reefs on a 50′ pirate ship, with lighted glass-bottom ports where you can see the reef life without getting wet, or get up close and personal for a snorkeling experience of a life time.
Packages available*:
Reserve the entire pirate ship for a sunset sail or snorkel trip for up to 6 persons for just $395
A 4-person sunset sail or snorkel trip for just $275
A 2-person sunset sail and 1 snorkel trip for just $275
Sail on a sunset cruise on the bay side where you will see awesome sunsets on a 47′ all electric Jeaneau Lagoon catamaran for up to 6 persons on the calm waters on the edge of the Florida Everglades, just $395!
Sailboat rentals at South Miami Dade Marina and Eco Adventures or Key Lime Sailing Club and Cottages.
*The gift cards & boat rentals should be scheduled in advance to ensure availability. All fares subject to Florida state tax. Redeemable from December 19, 2018 to December 31, 2019. Weather permitting and non-refundable or transferable! Restrictions may apply.
To inquire about or to purchase gift cards, call 305-896-5555 or email captg@keylimesailing.com.
Disclaimer:
~ New reservations at Key Lime Sailing Club and Cottages
~ Sailing lessons from American Sailing Academy
~ Kayaking in see-through kayaks for 2, 4, or 6 persons in the nearby Florida Everglades eco system, guided or unguided trails