What are some fun things to do in the Florida Keys?
Welcome to the Florida Keys, my fellow explorers! This captivating archipelago, stretching from Key Largo to Key West, is a true tropical paradise that caters to all kinds of adventurers. Whether you're seeking thrilling escapades or tranquil relaxation, you'll find it here. In this blog post, we'll take you on a journey through some of the most enjoyable things to do in the Florida Keys, guaranteeing unforgettable experiences for every visitor. Get ready to immerse yourself in the vibrant culture, stunning landscapes, and endless opportunities for fun and relaxation that await you in this magical destination. Let's dive in and discover the wonders of the Florida Keys together!
Kayaking
Prepare to be captivated by the crystal-clear waters that teem with vibrant marine life. One of the most thrilling activities you can enjoy here is kayaking. Set off on an unforgettable journey, navigating through hidden mangrove forests, peaceful backcountry trails, and charming coves. As you paddle along the serene coastline, take in the breathtaking beauty of nature that surrounds you, both above and below the surface. Keep your eyes peeled for the occasional appearance of our friendly neighbors, the Florida Manatees, as they gracefully glide through the waters, adding an extra touch of wonder to your kayaking adventure. From the delicate sea fans swaying in the currents to the lively schools of tropical fish darting by, every moment spent exploring the Florida Keys is an opportunity to forge a deep connection with the natural world that will leave a lasting impression on your heart.
Snorkeling and Scuba Diving
Dive into the mesmerizing underwater realm of the Florida Keys through snorkeling or scuba diving. Get ready to explore the vibrant coral reefs, swim alongside tropical fish, and witness the awe-inspiring marine life up close. Whether you're a seasoned diver or a beginner, the Florida Keys have a range of dive sites that cater to all levels of experience. You'll be treated to breathtaking underwater landscapes that will leave you in awe of the natural beauty that surrounds you. To make the most of your underwater adventure, you can find plenty of local dive tour companies, snorkel tour providers, and dive shops that offer lessons and equipment rentals. So, grab your gear, dive in, and let the Florida Keys enchant you with its incredible underwater wonders.
Sailing
Feel the refreshing ocean breeze against your skin as you embark on an unforgettable sailing adventure. Whether you're a seasoned sailor or a novice, the Florida Keys offer an array of sailing locations that cater to all skill levels. From the calm bay side to the exhilarating ocean side, there's something for everyone to enjoy.
Rent a sailboat and set sail along the scenic coastline, where you'll be treated to panoramic views that will take your breath away. Don't forget to time your journey to catch one of our famous sunsets, a truly magical experience. For those seeking a convenient and enjoyable sailing experience, Key Lime Sailing Club and Cottages in Key Largo is the perfect choice. As a guest, you'll have complimentary access to various watercraft, ensuring that your sailing adventure is both seamless and unforgettable. So hoist the sails, let the wind guide you, and immerse yourself in the beauty of the Florida Keys from the deck of a sailboat.
Historical Exploration
Uncover the captivating history of the Florida Keys through its remarkable historical sites. Step inside the Ernest Hemingway Home and Museum, the former residence of the renowned author, and delve into the intriguing stories of his life and literary legacy. Journey to the remote and stunning Dry Tortugas National Park, where the impressive Fort Jefferson stands as a testament to the area's rich history and significance.
Immerse yourself in the political heritage of the Florida Keys at the Harry S. Truman Little White House, gaining valuable insights into pivotal events that took place there. Experience life as a 19th-century soldier at Fort Zachary Taylor Historic State Park, a well-preserved fortress that offers a window into the past. For breathtaking views and a glimpse into the region's maritime heritage, climb the Key West Lighthouse and explore the Keeper's Quarters Museum.
Embark on educational tours guided by knowledgeable experts who bring the tales of the past to life, deepening your understanding of the cultural legacy of the Florida Keys. From the iconic author's residence to remote national parks, historic landmarks, and well-preserved forts, the historical sites of the Florida Keys offer a captivating journey through time, allowing you to connect with the vibrant history of this unique destination.
Dolphins Plus
Dolphins Plus in Key Largo is a must-visit destination for a memorable dolphin encounter. Dive into an unforgettable experience as you interact with these intelligent and playful creatures. Choose from a dolphin encounter or swim and create lasting memories while gaining a deeper appreciation for marine life conservation. Dolphins Plus offers picture packages, making it a great activity for the whole family. The knowledgeable and professional trainers ensure a safe and up-close encounter with the dolphins.
This educational and entertaining experience is perfect for kids and adults alike. Learn about the behavior and habitat of dolphins while witnessing their captivating nature firsthand. Swimming alongside these majestic creatures allows for a special connection that will leave a lasting impression.
By visiting Dolphins Plus , you not only have a remarkable experience but also contribute to the conservation efforts for dolphins and marine life. Your support helps raise awareness and promote the protection of these fascinating creatures and their natural habitat. Indulge in the joy and wonder of swimming with dolphins at Dolphins Plus in Key Largo, and create cherished memories that will stay with you for a lifetime.
Relish Beautiful Sunsets
Discover the tranquil beauty of the Florida Keys' pristine beaches and immerse yourself in a world of relaxation and serenity. Feel the soft sand beneath your feet, soak up the warm sunshine, and let the gentle ocean breeze whisk away your worries. The stunning sunsets are an enchanting spectacle you won't want to miss, as the sky transforms into a breathtaking canvas of vibrant colors. Find a peaceful spot on the beach, sip a tropical drink, and allow yourself to be captivated by nature's beauty.
The Florida Keys offer a respite from the hectic pace of everyday life. Whether you prefer to lounge on the beach, lose yourself in a good book, or simply enjoy quiet contemplation, these moments of tranquility are invaluable. Let the rhythm of the waves soothe your soul and embrace the simple pleasures of beachside bliss.
Nature takes center stage in the Florida Keys, where the pristine beaches provide the ultimate escape. Immerse yourself in the calming energy of this coastal paradise and create cherished memories of peace and natural wonder.
For a more intimate experience, consider booking a sunset cruise with Morning Star Sailing Charters in Key Largo. Sail on a luxury catamaran or yacht, accompanied by an experienced captain, and witness the awe-inspiring sunsets from the water. It's a perfect opportunity for families, friends, or couples to savor the beauty of the Keys in a unique and memorable way.
Culinary Delights
Immerse yourself in the vibrant culinary scene of the Florida Keys. Get ready to indulge in a delectable array of fresh seafood and tropical-inspired dishes that will tantalize your taste buds. Explore the diverse dining places and bars scattered across the islands, where you can savor mouthwatering flavors while embracing the laid-back island vibes.
Make sure to visit renowned restaurants that have made their mark on the Keys' culinary landscape. Experience the eclectic ambiance of Blue Heaven in Key West, enjoy breathtaking waterfront views at Latitudes in Sunset Key, and savor the flavors of Islamorada Fish Company in Islamorada. For a taste of local charm, head to Square Grouper in Cudjoe Key and our personal favorite, Mrs Macs Kitchen in Key Largo, where you can indulge in their world-famous Key Lime Pie.
Whether you're a seafood lover or seeking unique tropical flavors, the Florida Keys have a dining experience to satisfy every palate. Discover the diverse range of culinary delights, soak up the relaxed island atmosphere, and create lasting memories as you indulge in the flavors of this enchanting destination.
Fishing
Embark on an unforgettable fishing expedition in the abundant waters of the Florida Keys, where endless opportunities await anglers of all levels. Cast your line and reel in a variety of fish species while creating lasting memories amidst the picturesque surroundings. Whether you prefer backcountry fishing, deep-sea excursions, shore fishing, party boat fishing, or kayak fishing, the Keys have something for every angler's preference.
To get started, visit local shops that offer a wide range of fishing equipment and baits to suit your needs. Alternatively, you can book a fishing charter for a guided experience, where skilled captains will take you to prime fishing spots and share valuable insights and techniques.
Depending on the time of the year, some popular catches in the Florida Keys include bonefish, tarpon, snapper, grouper, mahi mahi, and billfish. Stay updated on the schedules of Florida Keys Fishing Tournaments for additional excitement and competition. It's important to be aware of and follow local fishing regulations to ensure the sustainability of the ecosystem.
Get ready to immerse yourself in the thrilling world of fishing in the Florida Keys, where the breathtaking beauty of the surroundings and the diverse range of fish species make for an unforgettable angling experience.
Key West
Discover the vibrant atmosphere of Key West, an essential part of any Florida Keys visit. This lively city is renowned for its bustling streets and lively nightlife, offering an abundance of bars, live music venues, and entertainment options. Immerse yourself in the vibrant party scene, mingle with locals and fellow travelers, and dance the night away.
Key West is not only about its nightlife; it also boasts stunning beaches, excellent restaurants, and captivating historical sites. Take a leisurely stroll along the streets lined with sidewalk cafes, open-air bars, and legendary pubs. Indulge in island specialties at world-class restaurants, satisfying your culinary cravings.
Immerse yourself in the arts scene, where drama, musicals, and comedy thrive on local stages. Experience the rich history of Key West by embarking on the Conch Train Tour, a fantastic way to see the highlights and learn about the city's fascinating past. With limited time, this tour ensures you make the most of your visit and gain insights into Key West's heritage.
Whether you seek vibrant nightlife, beautiful beaches, delectable cuisine, or a dose of history, Key West offers an unforgettable experience that captures the essence of the Florida Keys.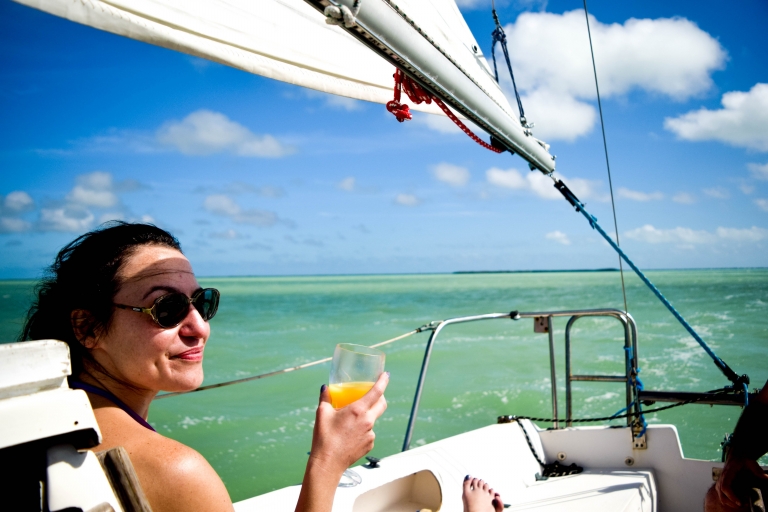 The Florida Keys provide a perfect blend of adventure, relaxation, and natural beauty, making it an ideal destination for any traveler. Whether you choose to explore the enchanting marine life, indulge in the local culinary delights, or simply bask in the tranquility of the surroundings, the Florida Keys promise an unforgettable experience. Consider staying at Key Lime Sailing Club and Cottages in Key Largo, where you can enjoy a plethora of activities and amenities. So pack your bags, embark on an island adventure, and let the Florida Keys mesmerize you with its charm and allure.